JIMMY H8 Flex cordless vacuum cleaner
With the JIMMY H8 Flex, you can effortlessly make every corner of your home sparkle clean. This cordless upright vacuum cleaner stands out with a suction power of up to 185AW, eliminating dirt in no time. It is also equipped with a dust sensor and LED display, which makes it much easier to use. The device has an operating time of up to 65 minutes on a single charge. The vacuum cleaner's bendable tube allows you to conveniently clean under furniture, and the included accessories will help you keep every nook and cranny tidy.
Reliable in the fight against dirt
Experience how quickly and effectively you can get rid of dirt. The vacuum cleaner is equipped with a brushless motor that operates at 550 watts and provides a suction power of about 185 AW. Thanks to this, it will instantly deal even with stubborn dust, crumbs, hair or hair entangled in the carpet. What's more, the patented dual cyclone technology can eliminate particles from dirt with up to 99.9% efficiency and prevent secondary contamination.
Built-in LED display
Enjoy simple operation of your vacuum cleaner and gain convenient access to information about its operation. The H8 Flex has a built-in small LED screen that displays real-time data such as the remaining run time, the selected mode and the amount of dust in the environment. Now you have everything you could possibly need at your fingertips – just a glance away!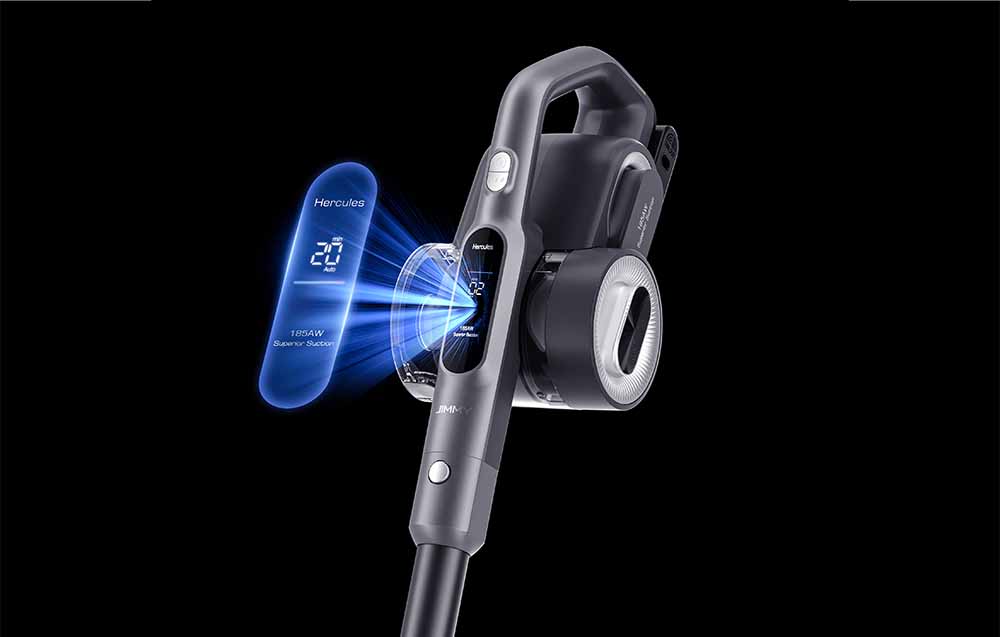 Smart dust sensor
Have you ever wondered if your apartment has been cleaned properly? Unsure if the vacuum cleaner handled the dirt well enough? JIMMY H8 Flex will help you dispel similar doubts! The device is equipped with a smart dust sensor – to check the concentration of dust, just look at the special indicator on the display. For example, blue color means that the environment is clean, and red color means that it is very dirty.
4 operation modes to choose from
Adjust the vacuum cleaner's operation to your expectations or to the degree of dirt on the floor. The H8 Flex lets you choose from 4 cleaning modes. Eco provides the longest run time and is ideal for everyday use. For more stubborn dirt, choose Turbo or Max. In Auto mode, the vacuum cleaner automatically adjusts its work depending on the type and degree of dirt on the surface.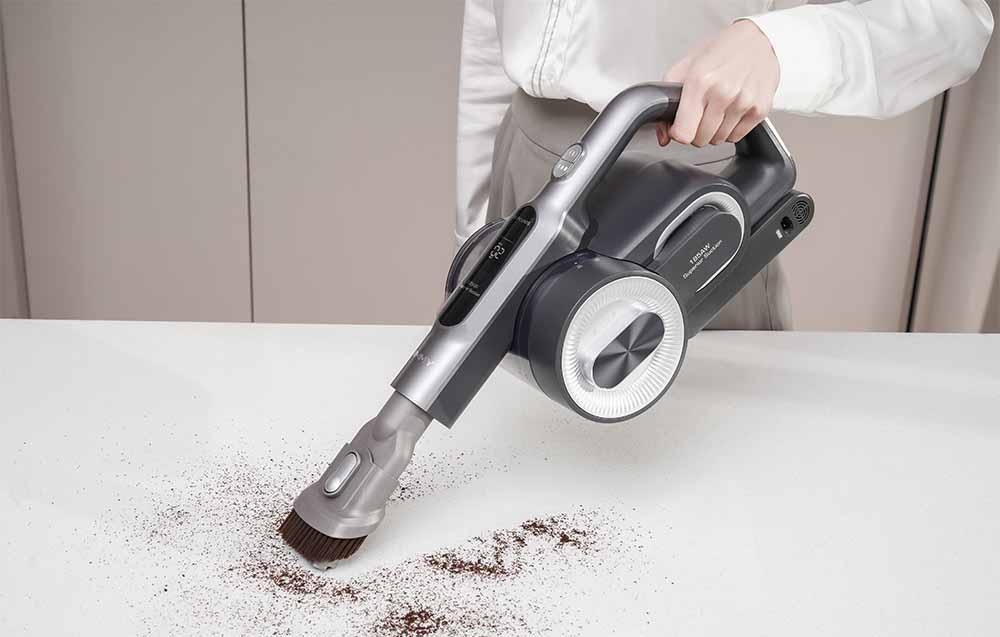 Effortless vacuuming in hard-to-reach places
Thanks to its carefully considered design, the vacuum cleaner will make it easy for you to clean hard-to-reach places. Among other things, the curved tube allows you to conveniently vacuum the floor under furniture – no more bending down! What's more, the main brush of the device is equipped with LED lights, which will allow you to thoroughly clean dark corners. With JIMMY no dirt will hide from you!
Long working time
No more unwanted interruptions in cleaning. Don't be afraid of having to charge the vacuum cleaner frequently! When combined with the electric floor brush, the JIMMY H8 Flex runs for about 45 minutes in Eco mode, about 18 minutes in Turbo mode or about 11 minutes in Max mode. Operating time without the electric brush goes up to 65 minutes in Eco mode, 21 minutes in Turbo mode or 11 minutes in Max mode. In addition, the vacuum cleaner's battery can be easily removed and replaced.
User-friendly
Find out that cleaning doesn't have to require much effort at all. The H8 Flex vacuum cleaner is distinguished by its ergonomic and relatively lightweight design, making it very comfortable to use. It is also equipped with a large dust container with a capacity of 500ml, which you will have no problem emptying – just press a button. You won't even get your hands dirty! What's more, a special wall mount allows you to store and charge the device at the same time.
Useful accessories included
Soon every nook and cranny in your home can be spotlessly clean. All you have to do is use the included accessories! With the electric mattress brush you'll get rid of dust and dust mites from your bed or couch in no time, and with the 2-in-1 furniture brush you'll clean your table, shelves and other surfaces. The crevice brush will allow you to vacuum, for example, the recesses in the chairs, and the soft brush and flexible hose will make it easier to clean hard-to-reach places.
Included
Vacuum cleaner with electric floor brush
Electric brush for mattresses
Soft brush
Crevice brush
Connector
2-in-1 furniture brush
Flexible hose
Specification:
Brand
JIMMY
Model
H8 Flex
Voltage
25.2V
Rated power
550W
Suction power
185AW
Battery capacity
2500mAh
Motor
Brushless
Operating time with electric brush
Max: up to 11 min;
Turbo: up to 18 min;
Eco: up to 45 min;
Operating time without electric brush
Max: up to 11 min;
Turbo: up to 21 min;
Eco: up to 65 min;
Charging time
Approx. 4-5h
Noise level
≤ 80dBA
Dust container capacity
0.5l