JIMMY F8 hair dryer
With the JIMMY F8 hair dryer you can not only dry your hair quickly, but also improve its condition. The device is equipped with an efficient motor and features an airflow of up to 18l/s. It is also distinguished by its low noise level – only about 66dB. In addition, the dryer generates negative ions, which will make your hair softer and smoother, and stop electrifying. You also get a built-in touchscreen and several different modes.
It will dry your hair in no time
Don't waste time drying your hair indefinitely. The F8 hair dryer will surprise you with its efficient performance! The device is distinguished by the power of 1600W, and a modern motor, whose speed reaches 110,000rpm, is responsible for its reliable operation. All this provides impressive airflow and allows you to dry long hair in about 5 minutes, shoulder-length hair in about 3 minutes, and short hair in just about a minute!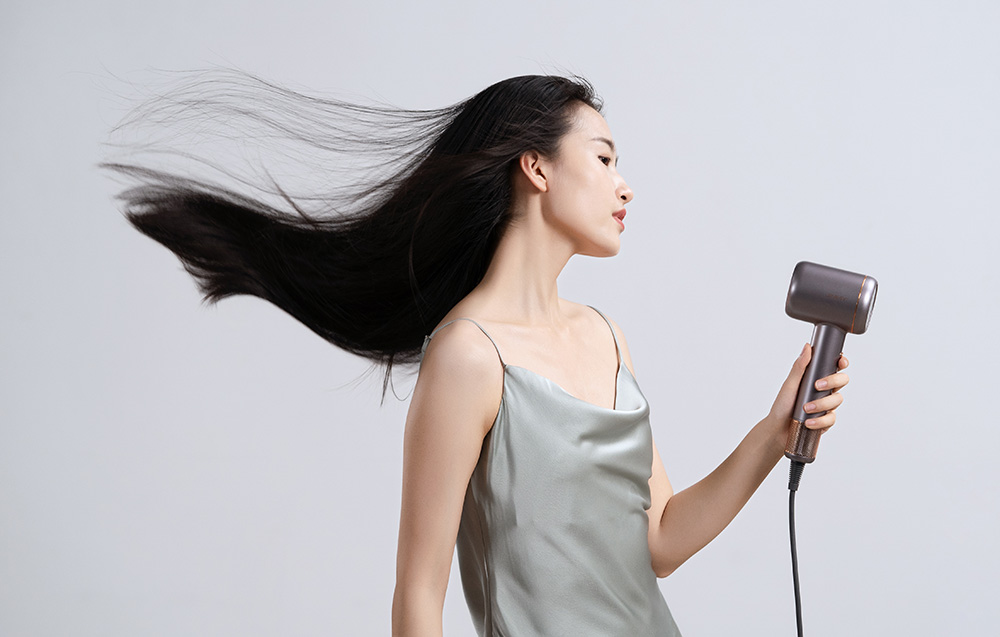 Quiet operation
Say goodbye to bothersome, annoying noise. The JIMMY dryer uses advanced noise-reduction technology, so it runs extremely quietly, even when the most powerful mode is on. Its volume level is only about 66dB. This means you don't have to worry about the annoying noise disturbing the rest of the household, scaring your pet or waking your child!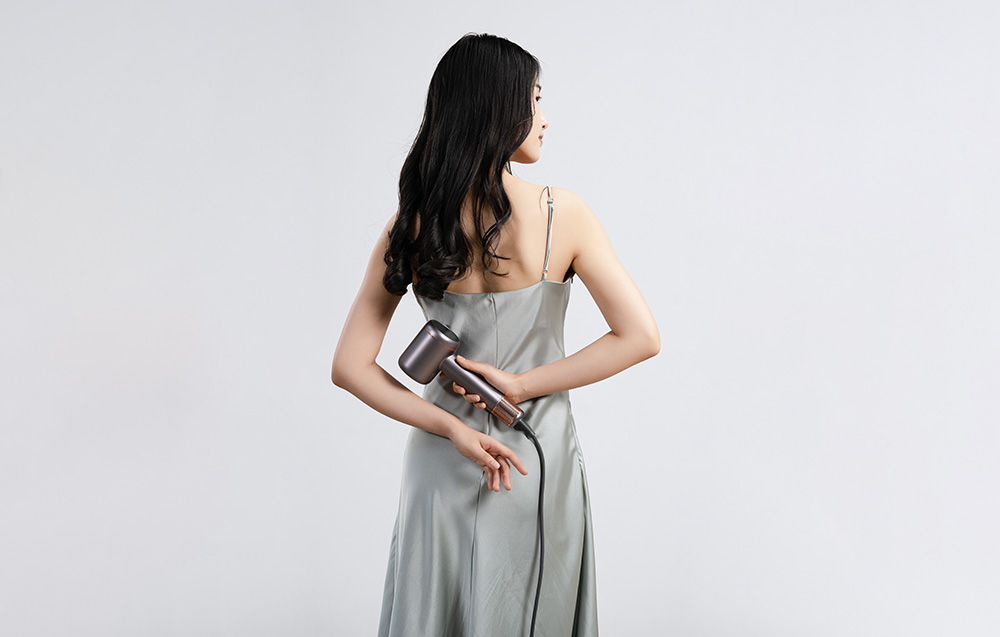 Take care of the condition of your hair
JIMMY F8 hair dryer will help you avoid dryness and noticeably improve the condition of your hair. The device generates up to 10 million negative ions per second, and uses Nanoi (water ion) technology. As a result, it can provide your hair with optimal hydration and give it exceptional smoothness, softness and shine. It will also make them stop electrifying. Now you can easily conjure the hairstyle of your dreams!
Created for your convenience
Enjoy the comfort of your dreams. The hair dryer was made of high-quality materials, it fits perfectly in your hand and is very light – it weighs only about 450g. Its convenient operation is made possible by a special button and a built-in touch screen, which allows you, among other things, to quickly change modes or temperature. The device also ensures the safety of use. Intelligent PID technology prevents it from overheating, so you don't have to worry about getting burned.
Many settings and modes to choose from
Customize the dryer's performance to suit your needs. The F8 lets you choose from 3 temperature settings – Low, Medium and High. It also offers 3 speeds. You can also choose from 4 modes – Hot, Cold, Hot & Cold Circulation and Soft. Use the available features to easily fix your style and give your hair a gorgeous shine! With JIMMY you'll say goodbye to restrictions and impress everyone with a perfect hairstyle.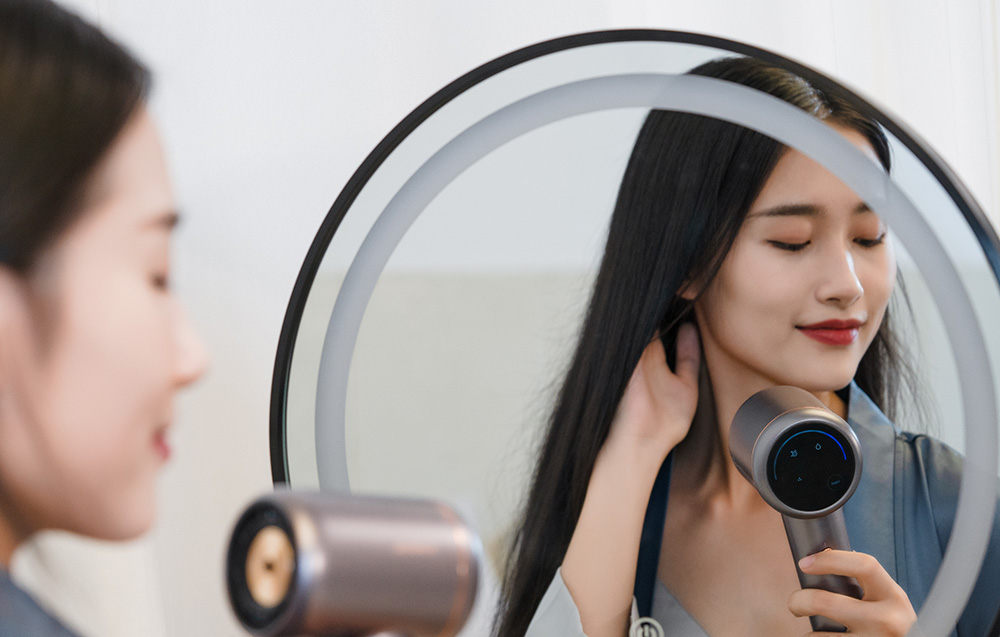 Interchangeable tips included
Make styling your hair easy. The set includes 2 interchangeable dryer tips to help you get the results you dream of. The concentrator will allow you to focus air on selected strands, speeding up drying and making it easier to create the hairstyles of your dreams. In the package you will also find a diffuser, with the help of which you can effortlessly bring out the curl of your hair and conjure up beautiful curls or waves. What's more, all elements of the set come in an elegant box – so it will be a perfect gift idea.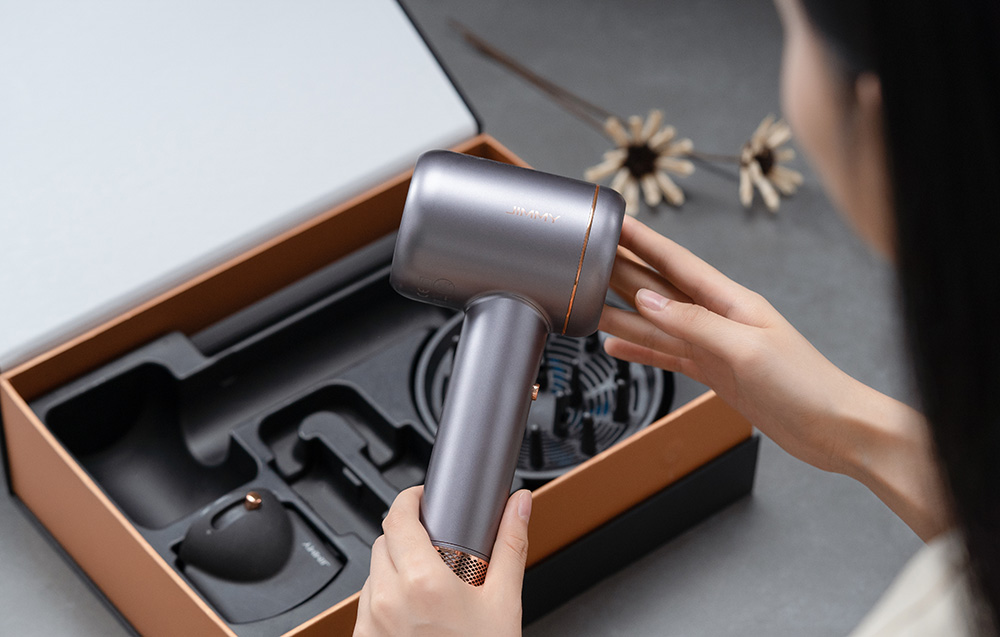 In the box
Hairdryer
Concentrator
Diffuser
User manual
| | |
| --- | --- |
| Brand | JIMMY |
| Model | F8 |
| Color | Gray |
| Voltage | 220-240V |
| Power | 1600W |
| Motor speed | Approx. 110,000rpm |
| Air flow rate | 18l/s |
| Max. sound level | 66dB |
| Speed control | High / Medium / Low |
| Temperature control | High / Medium / Low |
| Operating modes | Hot / Cold / Hot & Cold Circulation / Soft |
| Water ions | Yes |
| Negative ions | Yes, up to 10 million per second |
| LED touch screen | Yes |
| Cable length | 1.8m |
| Weight | Approx. 450g (without cable) |